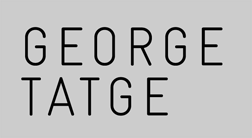 Copyright © by George Tatge 2012-2020
All rights reserved.
These photographs were made over an 18-month period after I had moved
to Italy. I found it difficult to reach through to Romans (I was just another
tourist) and discovered that most of the portraits that worked best had been taken out in the peripheral areas. I needed to get below the surface, the reason I chose to move to a small town in Umbria called Todi.