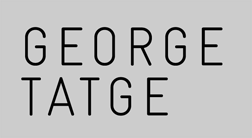 Copyright © by George Tatge 2012-2020
All rights reserved.
I spent four years studying English Literature at Beloit College in Wisconsin.
That is where I met my wife Lynn and my mentor Michael Simon, a Hungarian
who had left during the revolution and was beginning his career as a teacher
of photography. His teachings have stayed with me throughout my life and
we still speak on a regular basis. The most important lesson I learned from
Michael is that photography can be a key to the exploration of one's most
profound, subconscious self.
These photographs were published soon after my arrival in Italy by Lanfranco
Colombo, another great friend, in his magazine Fotografia Italiana.