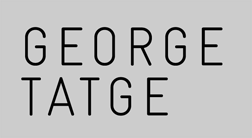 Copyright © by George Tatge 2012-2020
All rights reserved.
I have been fascinated by orti (vegetable gardens) for many years now.
I love their microcosmic nature, the order or disorder, the different methods
and materials used to confine the space, the precariousness. A commission from the MAXXI museum in Rome in 2007 helped me to explore the 19th century origins of the German Schrebergartens, the French jardins ouvriers and the British community gardens. I firmly believe urban designers should take note of the beneficial aspects of these plots of land.