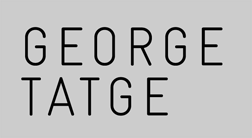 Copyright © by George Tatge 2012-2020
All rights reserved.
The Garden, 1987-1988

Everything bizarre in man, all that is vagabond and lost in him, could without
doubt be contained in these syllables: garden.

Luis Aragon, Le paysan de Paris


A series of photographs made in a private garden in Florence, Italy.
They were the centerpiece of the 1988 solo exhibition at the Museum of
Art of Sao Paulo (MASP) in Brazil. Critic Paolo Costantini wrote in the
catalog: "Author of an extraordinary series of intense portraits made in
the beloved landscapes of Umbria and Tuscany, attentive to the geometric
rhythms of architecture in a parallel project, Tatge has found within the rich and infinitely significant space of a Florentine garden a secret and inexhaustible place for the making of meditative, silent and very personal
analytic photographs."